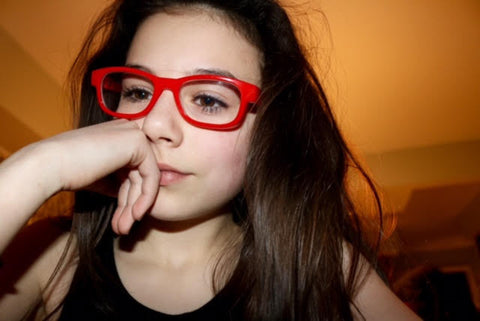 Eye-to-Eye is a series of interviews with the individuals who inspire us every day.
Here at Funoogles, we've been fans of Julia Antonelli ever since she was cast on "Every Witch Way," so when we found out she was a fan of Funoogles we were over the moon! We caught up with Julia to ask her about her experience growing up with glasses and how they've helped her stand out from the crowd.
Tell us a little bit about your experience growing up with glasses and what you think about Funoogles.
I absolutely love my Funoogles! I never minded having glasses, especially when I could finally see the blackboard in school! I got cast in Nickelodeon's "Every Witch Way" and also "Wits Academy" (playing the role of Jessie) based on a certain look. That look was mainly my glasses. I love wearing red glasses! Funoogles has a great bright red frame that really makes me stand out!
Recently I had my dance recital and my mom asked if I needed to wear my new contact lenses, but I chose to wear my "signature" red Funoogles on stage instead!
You can follow Julia on Instagram here, and don't forget to pick up your own pair of Funoogles here!