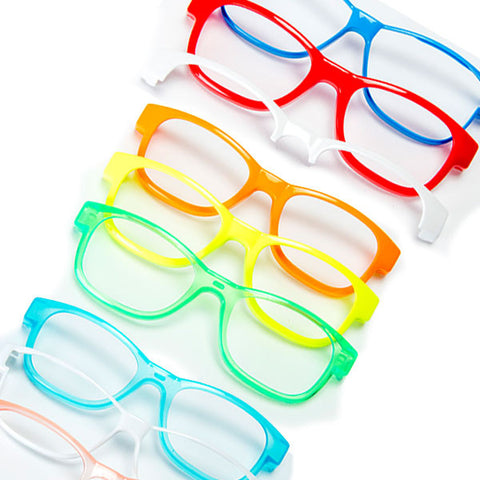 We've said it before, but finding the perfect frames is the first step in making sure your child loves (and looks forward) to wearing their glasses. That's why we pulled together our top 5 tips to ensure the process is quick and easy:
1. FIND THE FIT
New glasses need to fit comfortably in order to show your child how easy they are to wear. The right fit also encourages healthy vision habits like looking through the correct part of the lens and preventing eye strain. Most glasses (including funoogles) are measured by lens width, bridge width and temple length (in millimeters). Funoogles offers sizes 46-17-130 and 48-18-135 to cover most kids ages 3-14. See our size chart next to "Select Your Size" on this page for more info.

2. SERIOUSLY, FIND THE FIT
It's so important, we listed it twice! First and foremost, you need to make sure your child's glasses don't slide off their face, pinch their nose or squeeze at the temples. You want to make sure your child tests out the glasses while walking around and interacting with various objects to make sure they don't need to adjust their frames.

3. FRAME THEIR FACE
Closely tied to the fit, you want to make sure that your child's frames are flattering on their face; their eyes should be centered (vertically and horizontally) in the lenses and the frames should not be so large or chunky that they are the only thing you see! Again, get your child's feedback about which pair they like best; if they had a hand in picking them, they're much more likely to wear them.

4. MAKE THEM FUNCTIONAL
Kids glasses undergo a lot more wear and tear than adult frames, which is why you need to make sure they are resilient, resistant to breaking or scratching and easy to repair if there is a rough-and-tumble incident. For example, every pair of funoogles is made from flexible TR-90 material (that was quite literally kid-tested), so whatever happens, they'll always snap back to normal.

5. KEEP THEM COOL
While your primary concern is your child's vision, their primary concern is how they'll look with their new glasses! Try out several different styles with them before you settle on one that fits right, is functional and looks good. We also know that kids change their minds constantly, which is why Funoogles was born (and why we're so passionate about giving kids the freedom to express themselves with their frames).