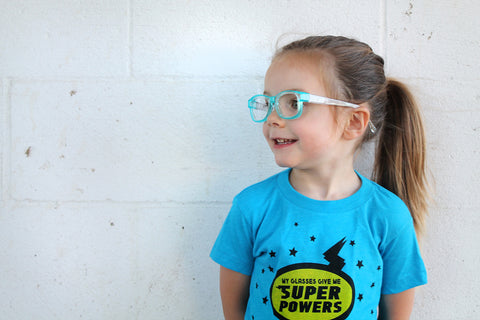 Eye-to-Eye is a series of interviews with the individuals who inspire us every day. This week, we chatted with Jessica Butler about her incredible brand Eye Power Kids, the importance of building a support network and much more!
Tell us a little about you, your family and how the idea for Eye Power Kids was born!

My name is Jessica. I am a mom of 3 amazing kids and a graphic designer from the Pacific Northwest. When My second child was born, we found out he was born with a congenital cataract. We were totally surprised and scared. We didn't know what to expect. He had surgery to remove the lens in his eye at 4 weeks old and then started patching (covering his good eye to make his bad eye stronger), wearing a contact lens and glasses. When my son was about 8 months old, my husband and I decided to do a Kickstarter to start Eye Power Kids Wear. We wanted to create a fun line of t-shirts and products for kids who wear glasses, eye patches or had any other visual impairment. I wanted my son to grow up proud of his glasses and thinking his eye patch was AWESOME! With fun t-shirts, my son wants to wear his eye patch more often (he may not always want to wear it though).

What are some of the biggest challenges you've encountered as the parent of a child with vision problems?

I think one of the hardest parts of being the parent of a child with vision problems is not knowing how things will turn out. From day one of our journey with congenital cataracts Ive asked myself so many questions: Am I doing everything right? Am I doing enough patching? How will Scott see when he is older? How in the world do I put a contact in a 4-week-old baby's eye? How do you keep a patch on a 3-year-old's face? Ive found in the last 4 years that the most helpful thing since Scott was born is all the support and friends we have made along the way! Along with support I think anything that makes our struggles easier helps! That's where fun shirts or cool glasses come in!   
What do you think would make life easier for parents in situations like yours (and ours)?
I think the most important thing for parents like me is to find help and support online and locally. We have had a lot of questions answered quickly on Facebook groups when we needed answers quick. Also find support locally. We have been able to create a small congenital cataract support group in the Portland area and we meet for play groups and play! It has been so helpful to have other moms who understand what we are going through. The Great Glasses Play Day is held the first weekend in May each year and can be a great time for families to find support!
I also suggest you make glasses, patching or whatever you're dealing with fun! One reason why we created Eye Power Kids Wear and why we love Funoogles is that they make something that kids struggle with fun and exciting!
How did you find out about Funoogles and what made them stand out to you?
We found Funoogles on Instagram and we are so glad we did. As a parent, I love the idea of glasses that can be changed to match outfits, I mean, how cool is that!? I would have loved Funoogles as a kid!
What are your hopes for the future of Eye Power Kids?
We hope to make more cool t-shirts and expand to help more kids to be happy in their glasses and eye patches!
Learn more about Eye Power Kids (and find some awesome tee designs) here.