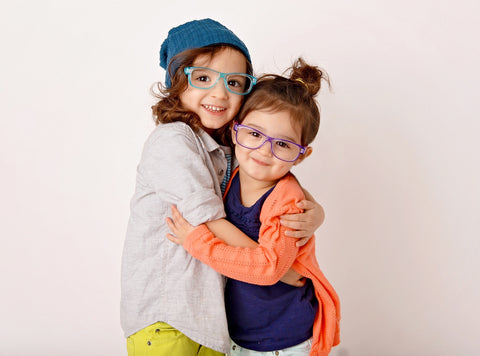 "My child doesn't want to wear glasses" is a very, very common complaint. Getting used to wearing something new isn't always easy and poses challenges (for kids and parents alike). That's why we've compiled our top 5 tips to ensure your little ones fall in love with their new glasses!
This goes without saying, and is the reason why Funoogles even exists (read more about that
here
). Letting your child have a say in which frames they wear will make them feel even more empowered and excited to wear them. In addition to looking good, make sure the frames fit comfortably (stay tuned for a future post all about fit).
Try introducing their new glasses for shorter periods of time (and preferably during activities they enjoy). Do they have a favorite cartoon or movie that they watch over and over? Explain how they'll be able to see everything so much better with their glasses! Building positive experiences with their new frames will make them want to wear them more and more.
3. SHOW THEM HOW COOL GLASSES CAN BE
Seek out and share tv shows, movies, cartoons, books and games where the characters wear glasses! Even look for pictures of their favorite celebrities wearing glasses in their everyday lives. We naturally want to emulate the people we admire, so showing them that their favorite singer or actress wears glasses will go a long way!
4. PRACTICE POSITIVE REINFORCEMENT
Did your child put on their glasses without having to be asked? Or sit through a long eye exam without a complaint? Let them know what a good job they are doing and reward them with a favorite treat, game or experience. You won't believe how quickly they'll want to wear their glasses again!
If your child is old enough to understand, explain to them why they need to wear their glasses for their own health and safety. If they're too young to be reasoned with, try making wearing their glasses a seamless part of their daily routine (that can't be compromised), like wearing a seatbelt or brushing their teeth. Soon they'll approach wearing glasses as just another thing they do without even thinking about it!
For more ideas on how to let your kids express themselves in their glasses, check out our
Starter Pack
.