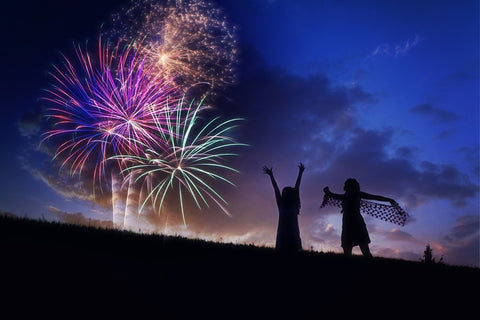 July has arrived! It's the month of celebrating all things American (Independence Day), Canadian (Canada Day), enjoying Ice Cream (National Ice Cream Month) and the warm weather (July is historically the hottest month of the year). With all those things in mind, here are 10 things we really want to experience during these 31 days:
1.

Try an ice cream flavor we've never tried, or just a totally unexpected flavor. Bacon ice cream, anyone?

2.

Watch at least two fireworks displays.

3.

Stay up super late/super early (for no reason at all).

4.

Roast marshmallows. Make s'mores. Eat too many s'mores.

5.

Volunteer at (or donate to) an animal shelter. Bonus points for adopting a new furry friend.

6.

Enjoy a movie outdoors.

7.

Spend a whole day jumping in and out of a pool.

8.

Have breakfast for dinner... pancakes, waffles, French toast... you get the picture!

9.

Learn 5 interesting facts about Canada.

10.

Spend as much time outside (wearing SPF) as possible!